Features and Organizational Structure of KUIAS
KUIAS has the following features as an institute to grow into a leading center based on a new paradigm:
Management with superb mobility under the strong leadership of the President
Application of a pioneering organization system designed for a "special zone" within the university
● System to allow world-leading excellent researchers to continue their research regardless of the conventional mandatory retirement age

KUIAS plays a leading role as a global research institute to perform advanced international research.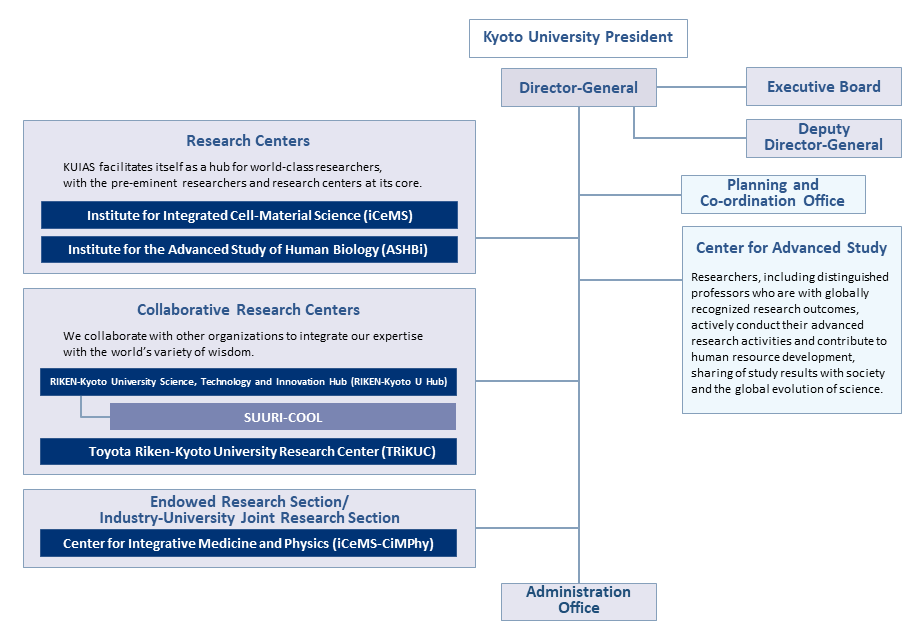 Center for Advanced Study
Researchers, including Distinguished Professors who are with globally recognized research outcomes, actively conduct their advanced research activities and contribute to human resource development, sharing of study results with society, and to the global evolution of science.
Institute for Integrated Cell-Material Sciences(iCeMS)
iCeMS continues the concept of World Premier International Research Center Initiative (WPI), and aims to create new academic disciplines integrating materials science and cell biology.
Institute for the Advanced Study of Human Biology

(ASHBi)
ASHBi implements the concept of World Premier International Research Center Initiative (WPI), and aims to create new academic disciplines uncovering the core principles of human beings and disease states.
Collaborative Research Centers
RIKEN-Kyoto University Science, Technology and Innovation Hub

(RIKEN-Kyoto U Hub)
Under the cooperation between KU and RIKEN, the Hub implements their joint study to promote the worlds most advanced research, develop new research horizons, and nurture next-generation personnel to take over its endeavors.
Toyota Riken-Kyoto University Research Center

(TRiKUC)
The Toyota Riken-Kyoto University Research Center (TRiKUC) performs collaborative research mainly on unconventional superconductors with the aim of contributing to the advancement of basic science, fostering the next generation of research professionals, circulating outstanding research talent both within Japan and overseas, and sharing its research outcomes with wider society.
Endowed Research Section / Industry-University Joint Research Section
Center for Integrative Medicine and Physics

(iCeMS-CiMPhy)
Established by the munificence of Nakatani Foundation for Advancement of Measuring Technologies in Biomedical Engineering, iCeMS-CiMPhy "fuses physics and clinical medicine." It seeks the development of measurement/analysis techniques to detect disease progression, while also striving to pioneer new technologies to evaluate cellular kinetics.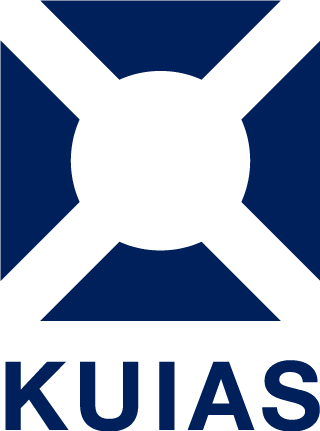 KUIAS has two major features as:
1. A place for distinguished researchers to gather for high-level research
2. A hub to connect all associated units in and outside Kyoto University
The motif of "window" has consequently be chosen to represent the above features.
We at KUIAS sincerely hope that, with this logo as its starting point, the institute will become a hub for all researchers working on the worldwide level.
* The logo was created through collaboration between Eiri Ono, a University Research Administrator (URA) of the Center for Enhancing Next Generation Research (E-NER) who made the original plan, and graphic designer Akio Okumura.